---
About Holistic Dog Training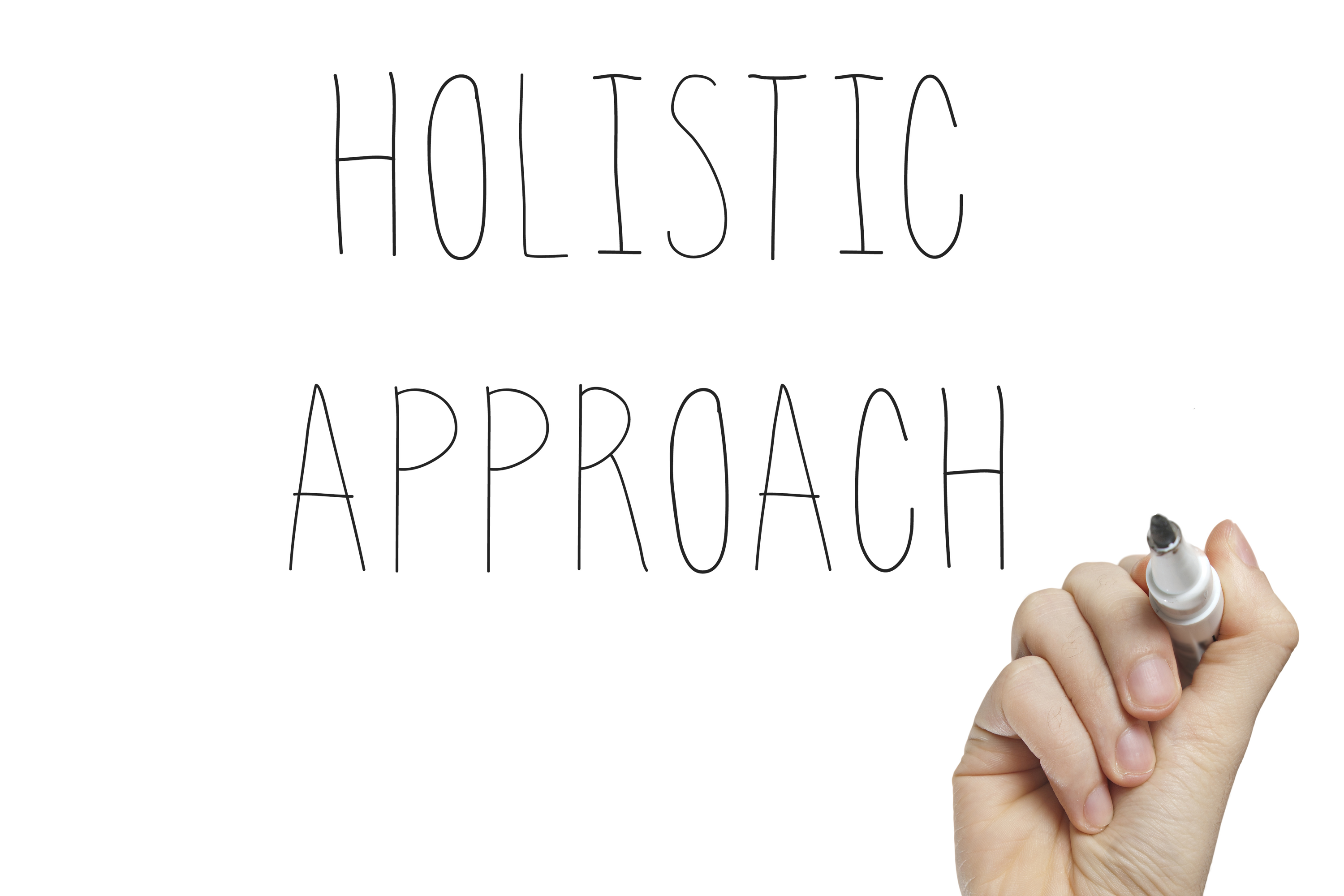 What does Holistic mean? It means we view each dog and his/her human relationship as unique! We approach every case as a whole (taking into consideration all potential factors) to create a personalized, one of a kind training program for you and your dog.
(1) Our Holistic Approach begins with a BREED PROFILE. For centuries dogs were bred for a specific purpose or a "job." By taking into consideration what your dog was originally bred to do (whether a pure bred or involving multiple breeds), we are able to quickly recognize potential behaviors and personality traits that may have been bred into your dog. We are then able to understand which training methods and techniques may be most effective for training your dog.
(2) Our next step is to look at your dog's unique PERSONALITY PROFILE. Although your dog may be of a specific breed or a mixture of breeds (which gives us a general idea of what your dog was meant to look like or act like), each dog still has their own unique personality, quirks and all! Through our conversations with you as well as by getting to know your dog on a personal level, we look to see what your dog's own unique personality traits are, to then tailor his/her training program specific to those needs.
(3) We also review your dog's PACK MEMBER PROFILE. Whether your dog has other canine pack members or is limited to just human pack members (ie. you, other family members) in his/her home, understanding where your dog fits into that pack, as well as your own position in the pack, is essential to understanding your dog's behaviors.
(4) After we have established our foundation through the breed, personality and pack member profiles, we then look at other essential profiles like: Your RELATIONSHIP PROFILE (ie. how you interact with your dog now and what kind of relationship you want or need), your dog's PURPOSE PROFILE (ie. what you want your dog to do/be, "job(s)"), your dog's BEHAVIOR PROFILE (ie. how your dog is currently behaving and what you would to change), your dog's PHYSICAL HEALTH PROFILE (ie. are there limitations or specific needs, what is your dog consuming), your dog's ENVIRONMENT PROFILE (ie. what external factors are involved, where does the dog live and who or what is there), your dog's PSYCHOLOGICAL PROFILE (ie. are there any apparent disorders or dysfunctions) and your dog's OVERALL WELLBEING PROFILE (other considerations, including your dog's happiness quotient!).
Frequently Asked Questions & Pricing Information:
Our Training Mission: To foster a healthy, bonded-relationship between dog and owner while teaching your dog new ways of behaving and/or doing their "job."
Our Beliefs: (1) Every healthy relationship between dog and owner is one based on honor, trust and affection! (2) The more time your dog spends with you, the better your relationship will be! (3) Training should be enjoyable for you and your dog! (4) Owner education and participation is the key to the success of your dog's training!
METHODOLOGIES
Holistic Method: We follow the Holistic Approach outlined above to design a unique training program created just for you and your dog! We take into consideration all possible aspects of your dog's well-being and relationship with you, to ensure optimal results.
Qualitative vs. Quantitative Method: Our focus is on the quality of your dog's training vs. merely how much your dog learns in as little time possible. Other training programs focus strictly on quantitative methods, utilizing force or fear methods to cram in large amounts of training into small amounts of time. This has been known to create anxiety disorders, emotional disorders and the breakdown of the owner/dog relationship.
For many years in the horse training world, trainers would "break" a horse by forcing a saddle on it, shoving a bit in its mouth, jumping on and hanging on tight, ultimately forcing the horse into submission and "breaking" its spirit. Many horses handled in this manner would appear depressed, sad or robotic. This method did in fact acheive the goals for many trainers, which was to have a horse that would abide by his commands, work patterns, perform tricks, and go on to win ribbons and champion titles. However, horse trainers later came to realize that bonded-relationships between owner and horse, based on mutual trust and respect, were essential to a horse's well-being which created an even better performance horse.
Forced or fear-based dog training methods often times have the same "breaking" effect on dogs. Dogs, however, exhibit their "brokeness" a little bit differently. After being "broken," the dog may appear depressed, overly submissive, fearful, robotic or have a nervous/anxious energy and lack of overall calm. Many of these broken dogs will still go on to win national titles in performance-based competitions, yet their overall well-being and the owner-dog relationship are severely lacking.
Our training focus, is on the quality of your dog's training by encouraging rapid advancements while fostering a healthy bonded-relationship beteween owner and dog and always prioritizing your dog's overall well-being. We do this by utilizing progression and "soft" based training techniques, as well as natural canine behaviors and communications.
Some Examples of our Methodologies?: (1) Conulsting with you about your dogs diet and how to eliminate allergens & artificial colors which may be causing behavioral issues or anxiety disorders, (2) Utilizing your puppies natural inclination to hold onto an animal pelt to teach "hold" commands, (3) Socializing your dog with our friendly "Mommy" dog, who will teach your dog appropriate social behaviors through her mothering techniques. (4) We utilize many other techniques that we see will be beneficial for your dog based on his/her unique profiles.
What we don't do?: We don't use any "force" techniques (ie. force fetch, force hold, etc.). We don't use fear tactics or inflict pain on your dog.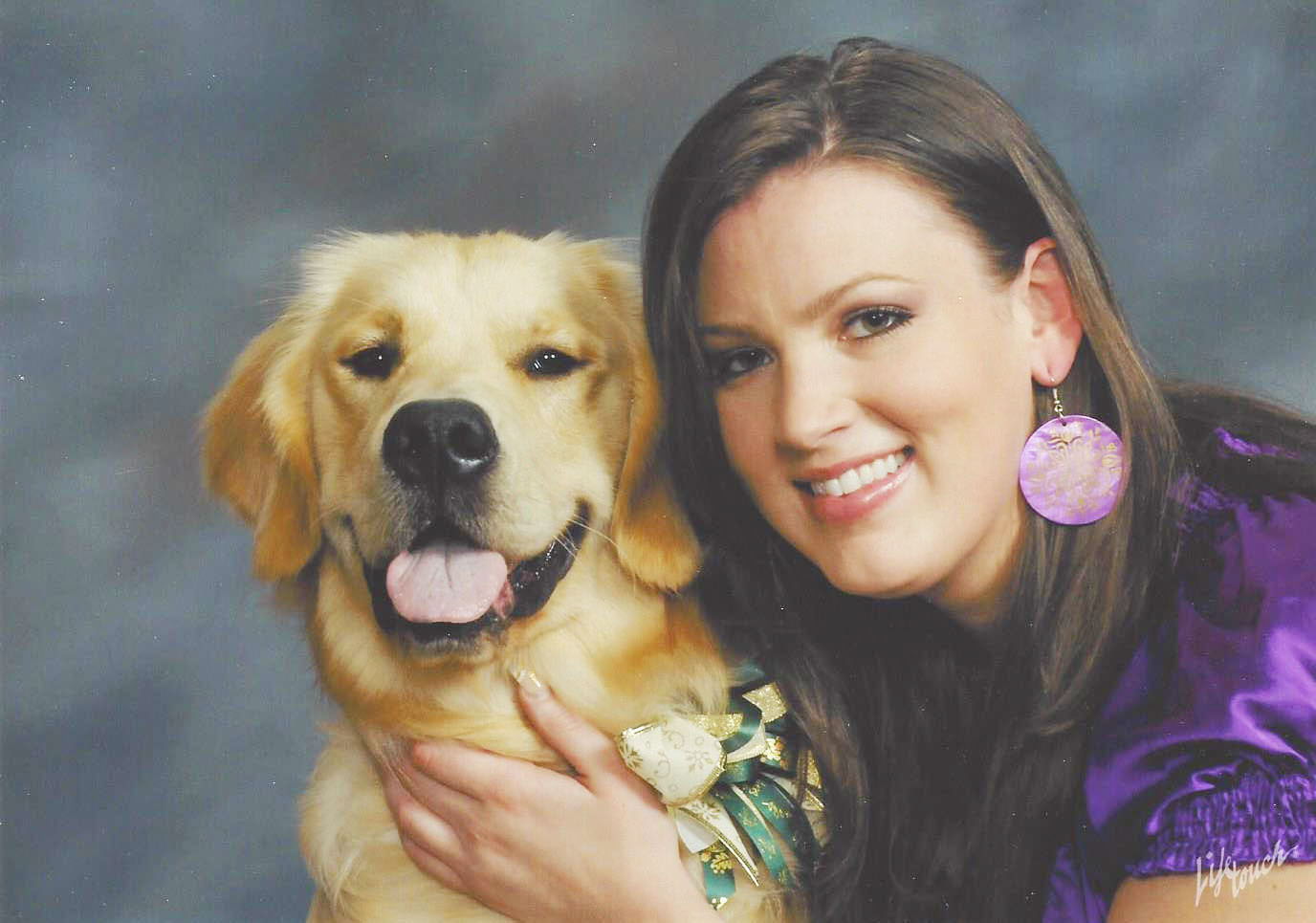 Jessica has over 20 years of experience breeding dogs, grooming dogs & training dogs to champion. She began her successful competitive training career when she was just 14 years old, training her first Golden Retriever "Rebekah" to champion titles through the MN State 4-H program.
Jessica is a Holistic Canine Health Practitioner and incorporates Holistic Health Modalities as well as Natural Behavioral Modification techniques into her dog training programs.
Jessica believes every dog is unique and therefore every training program should be personally developed to cater to the individual needs of the dog, as a whole.
Jessica welcomes all breeds & mixed dogs for her Holistic Training Programs, but she also specializes in the areas of: Retrievers, "sensitive" dogs, Dogs who have been negatively impacted by another trainer/situation and need rehabilitation, as well as other dogs with hard-to-manage behavioral or psychological disorders.
Jessica is a Golden Retriever breeder and currently trains her own dogs to compete in AKC Conformation, Obedience & Hunting Events.
Jessica is a member of the Greater Twin Cities Golden Retriever Club and the Central Minnesota Retriever Club, and actively engages in continuing education across the United States.
The Beginning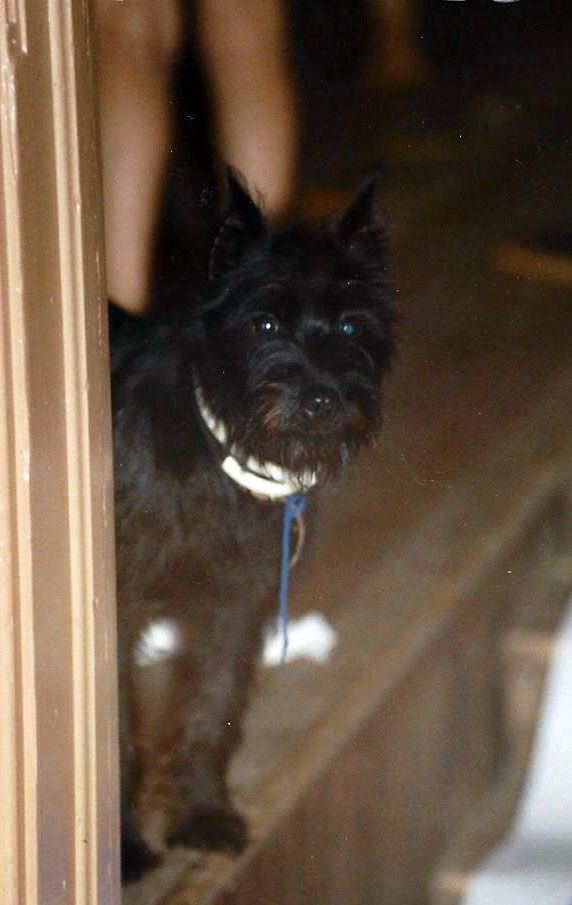 Pictured Above: The first dog Jessica ever trained "Gretchen" a schnauzer mix who was the family pet. Jessica trained her to perform tricks as well as some obedience commands. Jessica was just 6 years old when she began training Gretchen.
Competitions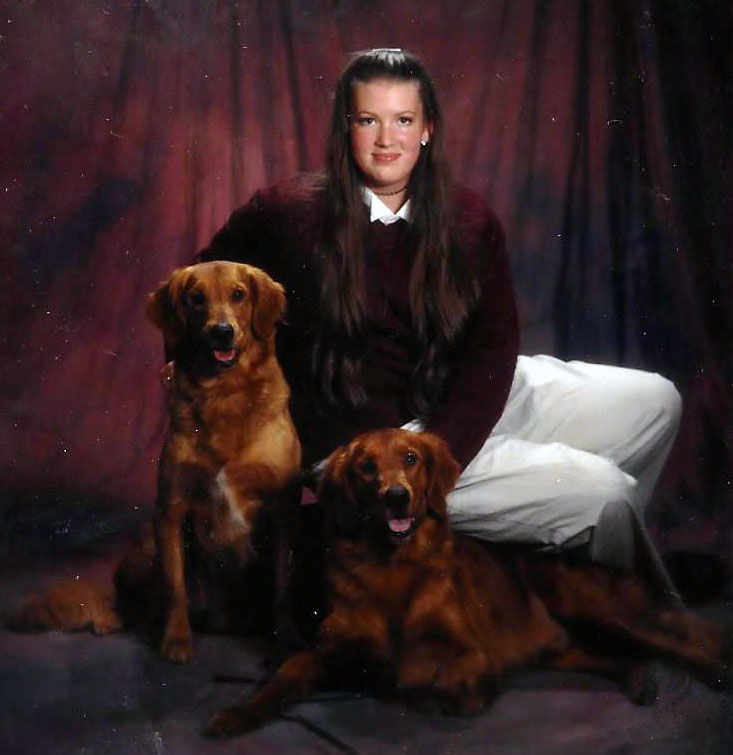 Pictured Above: Jessica's first two Golden Retreivers (litter mates) on the right "Ruger" and the left "Rebekah." (1999) Rebekah scored extremely high on the sensitive dog scale. She would melt into the ground if anyone even raised their voice. Jessica easily trained Rebekah through purely positive touch & praise rewards and continues to this same technique, among others, in her training today. Rebekah went on to win champion titles in 4-H competitive obedience.
Current Dogs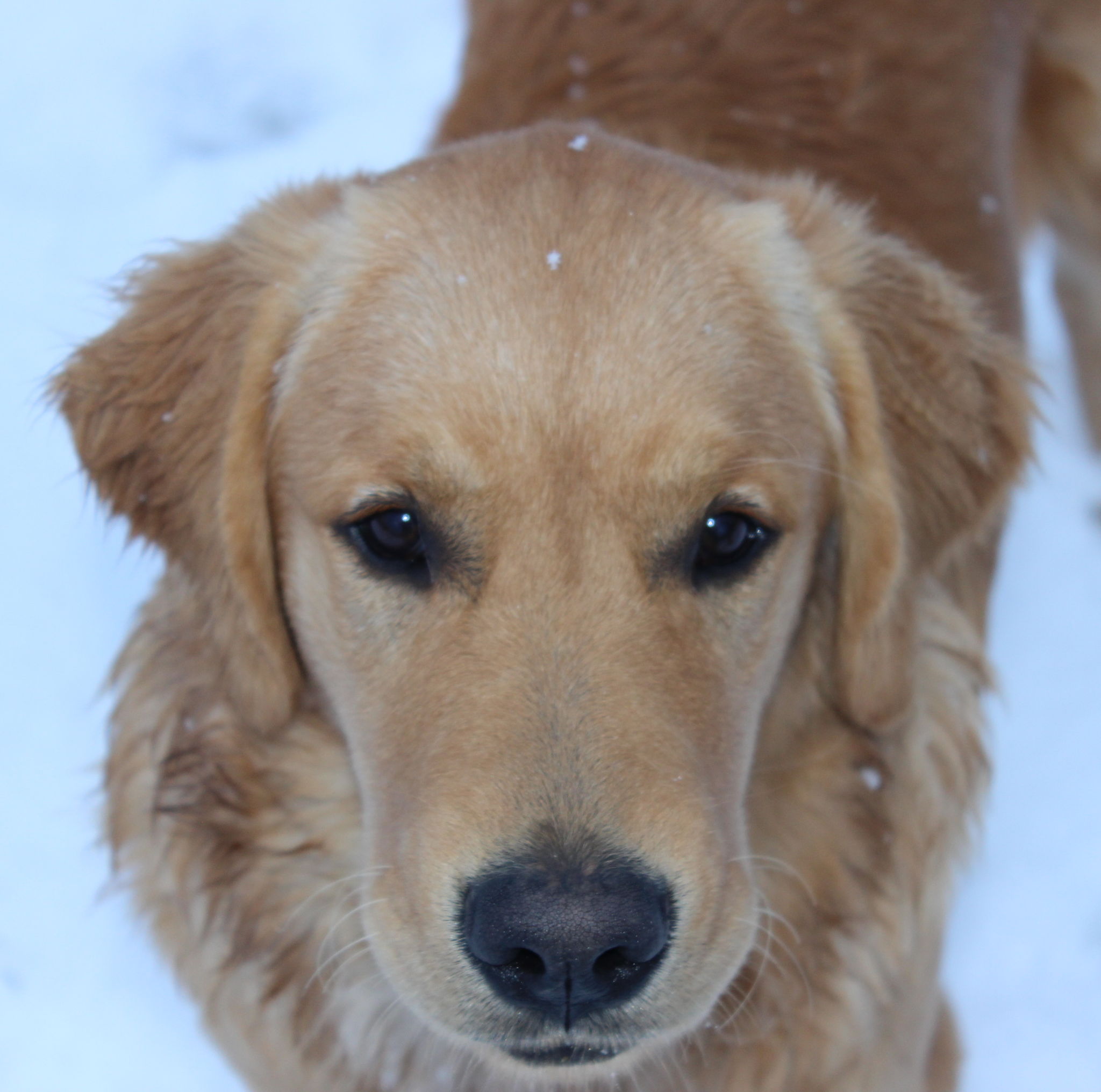 Pictured Above: Misneach De Chroi "Meeshy." Meeshy is just 1 year old. Jessica currently competes in AKC conformation shows, and is training Meeshy for AKC Hunt tests.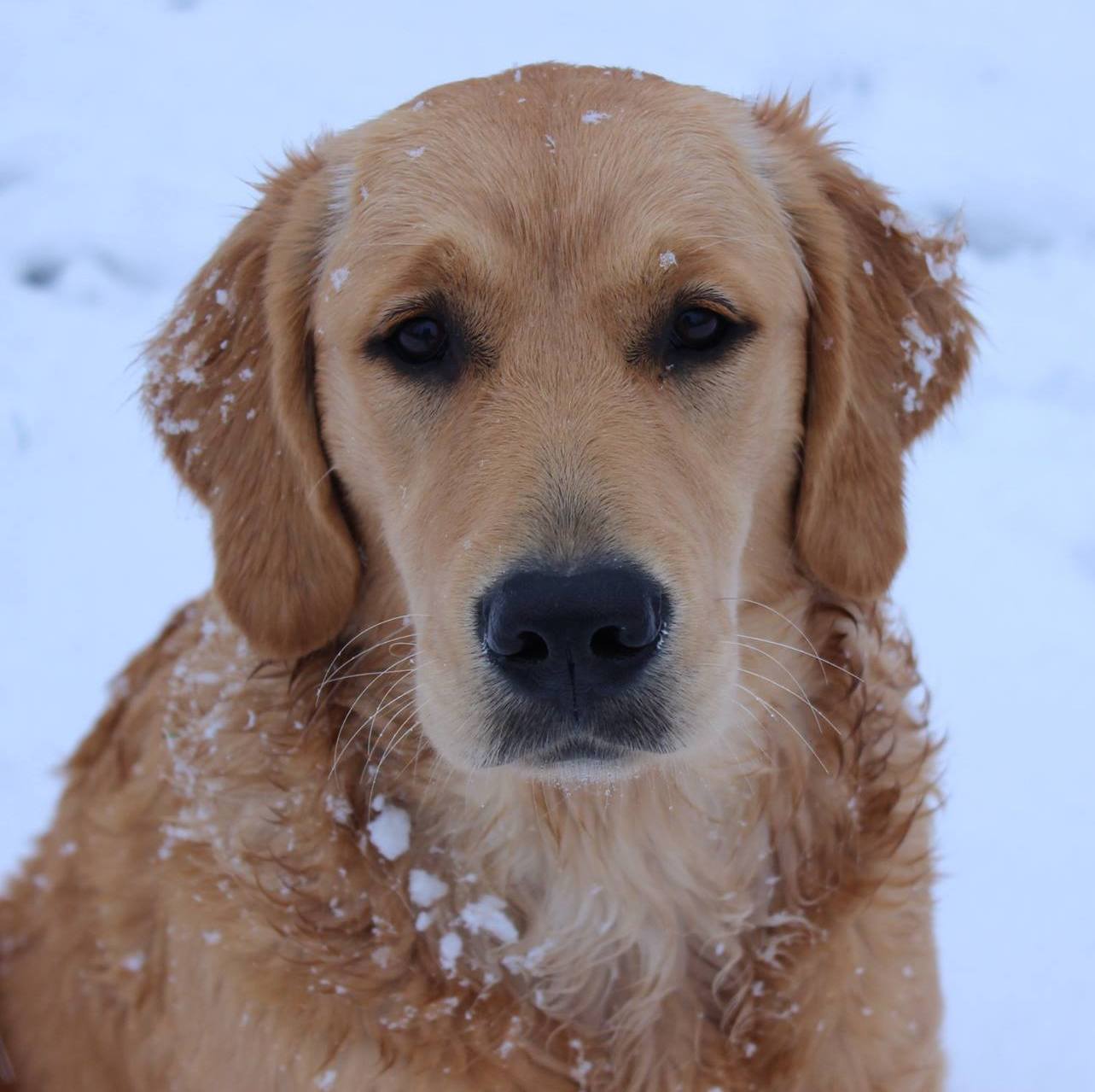 Pictured Above: Ariel Muruch de Chroi. "Ariel" is a litter mate to Meeshy and just 1 year old. Ariel is training for AKC Conformation as well as obedience.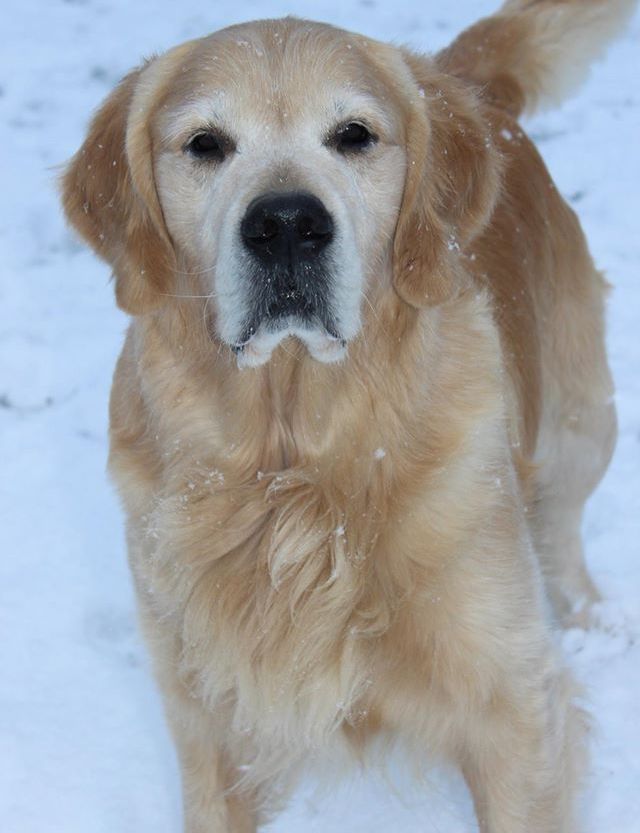 Pictured Above: Diamont Mo Chroi. "Mah Kree" is 8 years old and sire to Meeshy and Ariel. Jessica shows Mo Chroi in AKC Veteran's classes and started training Mo Chroi for AKC Hunt Tests.
Please contact our trainer Jessica Anlauf directly at the following contact information:
Quickest response time is through text as Jessica is often times out in the training field and reception might not be reliable: 320-209-1788
Next best method is email: j_anlauf@hotmail.com
For a slow response time contact by calling and leaving a voicemail at: 320-209-1788
All Programs are Priced equally regardless of your dogs age or skill level. We suggest your puppy be at least 2 months (8 weeks) old to participate in any of our programs, but also understand that there may be certain extreme circumstances which require an accommodation.
Please go to our Dog Training Pricing & Plans page for more information.
***Spaces are very limited: We only accept a very small number of dogs at a time, to ensure your dog is receiving all of the time and attention he/she needs! This means we have very limited spaces available so contact us early to schedule your dog's training program!